Fall NWEA MAP Testing to Begin Friday, Septemeber 29, 2017
ICC Elementary School will begin the Fall MAP testing session Friday, September 29, 2017. We ask that all students arrive on time and prepared for full testing days. No Make Up Tests are allowed and students who have paid the $35 fee will be allowed to test until the fee has been paid. Read More Here.


Student Engrade Pro Grading System
ICC Elementary School will be using the Engrade Pro online grading system this school year. Students will be given a username and password to login where current grade standings, assignments, missing work is available. Please check Engrade Pro on a regular basis to keep up with your child's progress to ensure thier academic success! Read More Here.


No School Friday, September 22, 2017
ICC Elementary School will be closed Friday September 22, 2017 due to building maintenance that will take place on the outdoor premises. Unfortunately, this work could not be scheduled at any other time, therefore, classes will not be held for the safety of students and convenience of work to be completed. Classes will resume as normal on Monday, September 25, 2017, Insha Allah. Any questions please feel free to call the Main Office at 773-267-6167.


IXL Website for Student Practice to be Used This Year
ICC Elementary School will be using IXL, a supplemental curriculum website for at home practice and study for students. Course work will be assigned in Math and Language Arts/English Classes. All students must pay the $15 membership fee for the entire year. Once paid, students will be given a username and password to login and use the tools to complete their assignments. Read More Here.


Child Illness Guidelines to Stay Home
InshaAllah, everyone will reamain healthy always, however, in the case where your chld may become ill, ICC Elementary School's Health and Safety Policy asks to make arrangements to keep sick chldren at home. Please see some guidelines to know when your child should stay home. For more information click here.


New After School Pick-up Policy
ICC Elementary School parents are asked to follow the new pick-up procedure to park and come into the building to student's classrooms to pick-up children after school. Pick-up time remains 3:25pm-3:45pm. Read More Here.


ICC Elementary School New Location!
Alhamdelilah, ICC Elementary School will be open for the new 2017-18 school year! The new location is 3333 W. Peterson Ave. Chicago, IL, 60659.


2017-18 School Supply Checklist
Check here for a full list of required supplies for each student to have. Each list is completed according to grade level. Please make sure each child has enough supplies to last for the entire school year.
View the full list here.

---
ICC Elementary School
2017-18 Calendar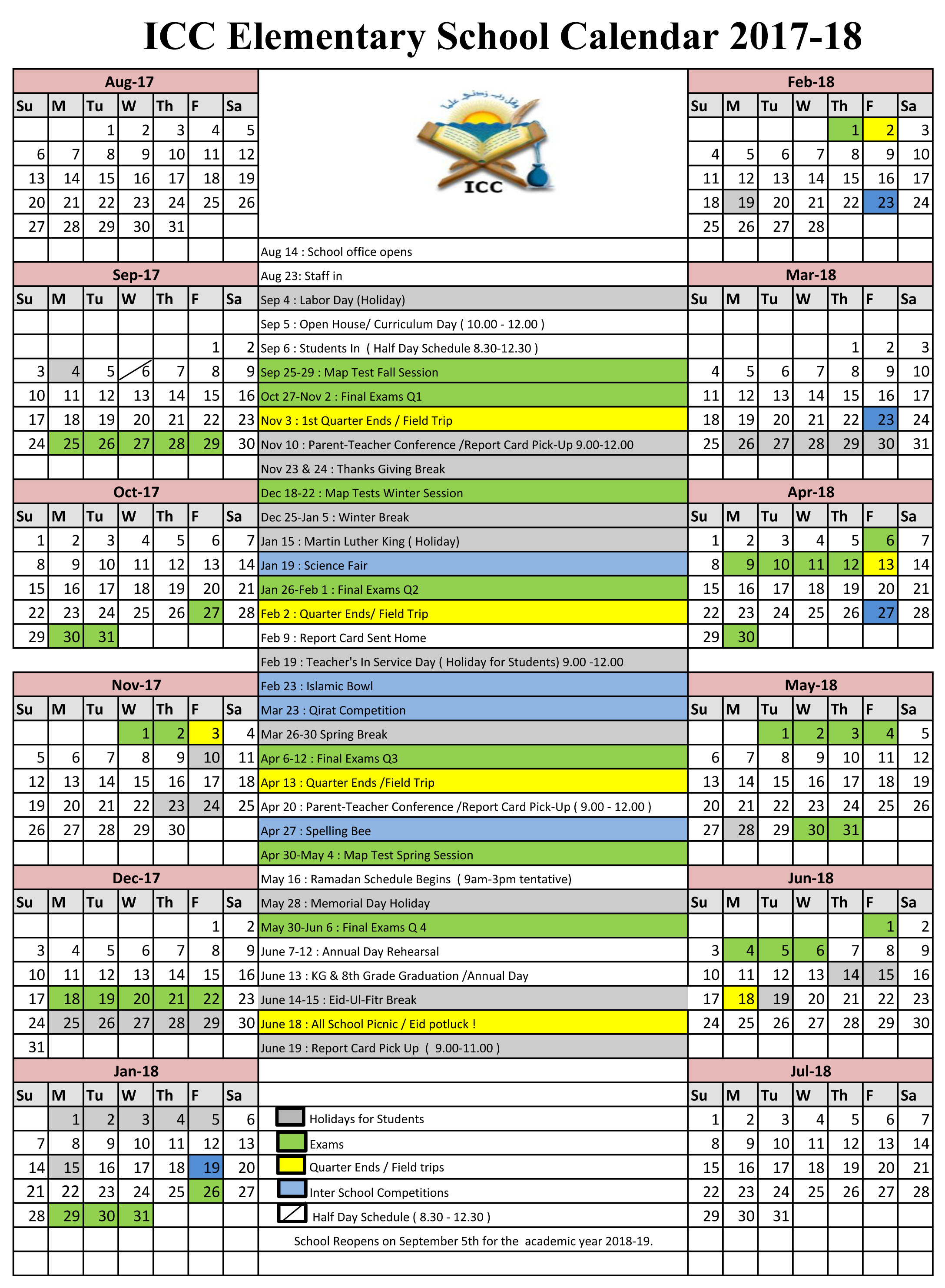 ---
Hadith of the Month
The Prophet said, "The most superior among you (Muslims) are those who learn the Qur'an and teach it." -Al-Bukhari
---